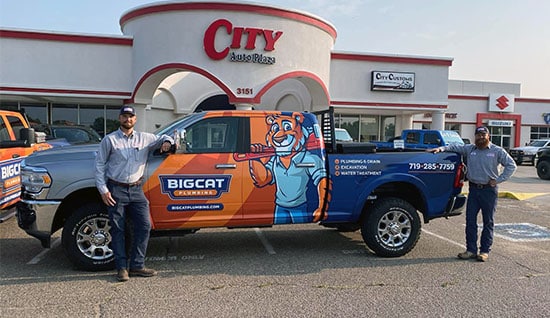 As the cold winter months approach, you need a heating system that's in top-notch condition for continuous, reliable warmth. Regular Colorado Springs HVAC maintenance and repair is essential to keeping your heating system running efficiently and preventing unexpected breakdowns.
But we know choosing the right HVAC contractor in Colorado Springs for heating maintenance can feel like a daunting task. Here are some tips on finding the best contractor or team for you for trustworthy, reliable, and fair pricing you deserve.
If you're ready to schedule service, or have any questions, don't hesitate to reach out to us at Big Cat Plumbing, Heating and Cooling!
(719) 431-6990
Get Upfront, Fair Cost Estimates
Before you hire an HVAC contractor in Colorado Springs, you should obtain a few quotes to compare pricing and services. However, the goal isn't to find someone with rock-bottom pricing. It's one thing to stumble upon a service special, but a company that beats out everyone's prices and seems too good to be true probably is. You want a realistic price that reflects the level of quality and care you'll receive from your HVAC maintenance.
Look for Reliable Maintenance Schedules
You'll ultimately save money if you sign up for an ongoing maintenance schedule. It's usually more than the cost of a single service visit, but considerably less than two visits. The goal is to keep your home's HVAC system up and running and working as efficiently as possible. Before you sign on for a maintenance schedule, ask about availability and how it all works. If they're reluctant to give you a reliable schedule or firm answers; there's probably an issue with their service or trustworthiness.
Certifications and Licenses
It's essential to make sure your HVAC contractor holds all of the necessary licenses and certifications. It's a red flag if they're not qualified and experienced in your area. In some cases, working with an unlicensed contractor can also void your HVAC warranty.
References and Reviews
Beyond the right certifications and licenses, you also want to check local and online reviews and ask for references from friends or family before hiring anyone. Word of mouth is a reliable way to source information about an HVAC contractor.
Warranty and Guarantees
Does your HVAC contractor guarantee their work? Make sure you work with someone who stands behind their services and offers some kind of warranty to ensure your system is maintained the way they promise.
Experience with Your Heating System
Not every HVAC system is the same and requires the right industry expertise. Your HVAC contractor in Colorado Springs should be able to service your specific type of heating system. Whether it's a furnace, boiler, heat pump, or radiant heating, the team at Big Cat can help.
Energy Efficiency Expertise
Old HVAC systems are notoriously energy-inefficient and need lots of interventions and attention. In some cases, it's a good idea to upgrade to a more energy-efficient model, depending on your needs, energy consumption, bills, and the age of your unit. Our team can help suggest energy-saving upgrades or modifications to make the most of your unit and ensure its efficiency and longevity.
Understanding Indoor Air Quality
A poorly maintained HVAC unit can negatively impact your indoor air quality. Knowledgeable HVAC contractors should be able to walk you through options for air filters, air purifiers, or other recommended technology. However, anyone you work with should respect your preferences and budget and not hard-sell you a specific service or product you don't want.
Emergency Service Availability
Working with a regular HVAC maintenance team should build trust and be there for you if you ever have an emergency. Find out about their availability, pricing, and hours in case you ever need to make a late-night or weekend phone call.
Clear Customer Service and Communication
When you call an HVAC contractor, what happens? Do you wait for hours or days for a response? Are you always connected to a third-party answering service? Any HVAC company you work with should provide clear, consistent communication and service. If they can't answer your questions or always give you different answers, it's a sign they're not reliable.
DIY vs. Professional Heating Maintenance
Is heating maintenance in Colorado Springs even necessary, or can you just do it on your own? It depends. Changing out a filter is pretty simple. So is wiping down your HVAC from dust and rinsing off your outdoor unit. But you can't get far enough into your vents and ductwork to get them thoroughly cleaned out. You also won't necessarily realize if there's a small issue going on with your system. But an experienced HVAC contractor can thoroughly service and clean your unit and look for any issues. When those small problems are resolved quickly, you can avoid unexpected, costly repairs.
Schedule Your HVAC Contractor with Big Cat
Choosing the right HVAC contractor for heating maintenance is key to a well-functioning home. The technicians at Big Cat are licensed, insured, experienced, and work with hundreds of loyal customers in the Colorado Springs area. Our team is here to help maintain your HVAC unit with fair, upfront pricing and reliable service you can trust. Contact us today for all your HVAC needs in Colorado Springs!
(719) 431-6990