The Importance of Regular Heating Maintenance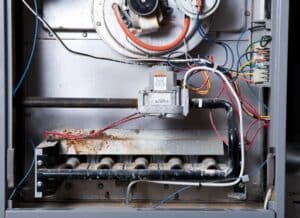 The leaves are changing, and winter is right around the corner! It's time to make sure your heating maintenance in Colorado Springs is working as efficiently and cost-effectively as possible with ongoing maintenance and care. Otherwise, you could end up with costly repairs or a total replacement.
Heaters need periodic maintenance to keep everything up and running and make sure your home stays warm. Skilled technicians can also help spot issues before they get out of control and lead to complicated repairs.
Here's what to know about the importance of regular maintenance and how our trusted Colorado Springs HVAC company, Big Cat Plumbing, Heating & Cooling can help.
(719) 431-6990
1) Get Energy Efficiency and Cost Savings
Prioritizing regular heating maintenance helps enhance your home's energy efficiency, which saves you money in the long run. When your furnace, boiler, or home's heating system is well maintained, it operates at its peak performance. The results are less energy consumption, which you notice in your utility bills. Over time, these savings can add up significantly.
2) Extend the Lifespan of Your Furnace or Boiler
A heating system is a significant investment, and you deserve consistent warmth. Regular maintenance can help extend the lifespan of your heating system, so you're not spending money on a premature replacement. Big Cat can help with regular heating maintenance visits to identify and address even the most minor issues before they become major problems. When you properly care for your heating system, you have more peace of mind and fewer headaches whenever there's a cold snap.
3) Improved Indoor Air Quality for You and Your Family
Skipping regular heating maintenance leads to an accumulation of dust, dirt, and other pollutants circulating in your home. Whenever you blast your heat, all of these contaminants are thrust into your home and can quickly lead to poor indoor air quality. You and your family may experience aggravated allergies, respiratory issues, and other health concerns. The experts at Big Cat provide the regular maintenance you need, including cleaning and changing air filters that help you breathe easier.
4) Focus on Safety First
Safety should always be a top priority when it comes to your home's heating systems. Neglecting your systems can pose a serious risk, including carbon monoxide leaks, gas leaks, or electrical issues. Regular maintenance checks can help identify potential safety hazards and prevent dangerous situations from occurring. Investing in regular heating maintenance now protects your family and property for a warm, safe home.
5) Avoid Costly Repairs
No one wants to deal with costly repairs for a heating system. Especially when regular heating maintenance can prevent them from escalating into major issues and repairs that impact your bank account. Meanwhile, you'll end up spending less money on ongoing maintenance than on ongoing repairs.
6) Get Consistent Comfort and Peace of Mind
There's nothing worse than dealing with a heating system breakdown or inconsistent warmth during the coldest months of the year. Regular maintenance helps ensure that your heating system operates consistently and reliably for the comfort you need, when you need it. Don't let unexpected breakdowns leave you in the cold! Call Big Cat today and invest in the ongoing heating maintenance you need to stay comfortable year-round.
Keep Your Home Warm with Big Cat Heating Maintenance
Big Cat understands better than anyone that a warm, reliable home needs ongoing heating maintenance. Whether you need maintenance or a new unit, we're here to help. We prioritize your comfort and safety and will assess your needs, make recommendations, and get you on a regular heating maintenance plan with upfront, fair pricing. Contact us today to explore your Colorado Springs heating maintenance options!
(719) 431-6990